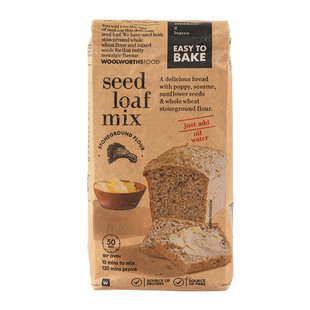 Baking bread can be a rewarding and enjoyable experience. Here's a basic recipe and step-by-step guide to help you get started on making your own delicious homemade bread:
Gather Your Ingredients: Before you start, make sure you have all the required ingredients on hand. Head to your nearest Woolworths store or visit their website to purchase the Easy To Bake Seed Loaf Mix. The mix typically comes in a convenient package that contains the essential dry ingredients, saving you time and effort in measuring them out.

Preheat Your Oven: To ensure your seed loaf bakes evenly and perfectly, preheat your oven to the temperature specified on the Seed Loaf Mix package. Typically, this would be around 180°C (350°F), but it's crucial to follow the instructions to achieve the best results.

Prepare the Loaf Pan: Grease a standard-sized loaf pan with a small amount of oil or butter. Alternatively, you can line the pan with parchment paper to prevent the bread from sticking to the bottom and sides. This step ensures that your seed loaf slides out easily from the pan once it's baked, leaving you with a beautiful, intact loaf.

Mix the Ingredients: Empty the contents of the Woolworths Easy To Bake Seed Loaf Mix into a mixing bowl. The mix is thoughtfully pre-measured, saving you from the hassle of measuring multiple ingredients separately. Once the mix is in the bowl, add the specified amount of water, as indicated on the pack. Use a spoon or spatula to mix the ingredients thoroughly, ensuring that no dry pockets remain. A smooth batter should form, and the mix should be well combined.